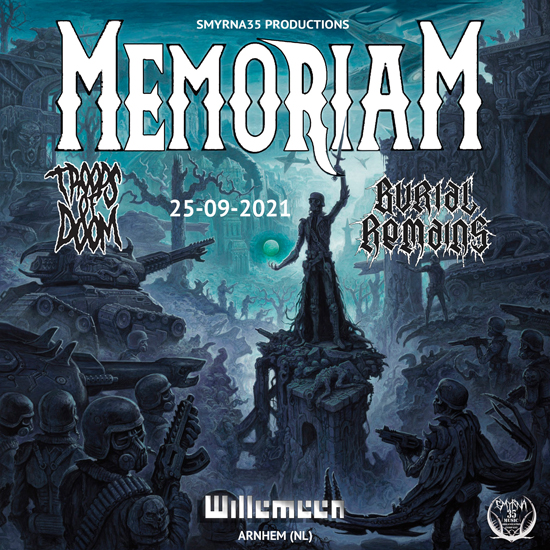 Our line up is complete Come and enjoy this celebration of Death Metal on the 26th of February 2021. Memoriam, Burial Remains and Troops of Doom will give you a night to remember.
Nearly all tickets for the concert of 27.03.2020 ( which was postphoned due to Corona ) have been refunded. We still have 27 sold tickets and for those die hard fans rest assured your tickets will remain valid for the new concert date on 26.02.2021. Thank you for your support
We will wait a bit longer before sending out more info in regards to the ticket sale.
Bijna alle concert kaarten voor het afgelaste concert van 27.03.2020 ( wat door Corona werd uitgesteld ) zijn terug betaald. We hebben nog 27 kaarten die niet zijn geretourneerd. Aan deze die hard fans, deze tickets blijven geldig voor de nieuwe concert datum van 26.02.2021. Bedankt voor jullie steun
Indien alles met manieren kan doorgaan
We wachten nog even met verdere info
#corona

MEMORIAM
https://www.facebook.com/Memoriamuk2020/
Burial Remains
https://www.facebook.com/pg/burialremains
Troops of Doom
https://www.facebook.com/troopsofdoom.twente